Archive for March, 2011
Ahhh how much I love this place! Sweet Child O' Mine!
(http://www.youtube.com/watch?v=2GnhFiZjW_Y&feature=player_embedded)
This is an anouncement for a couple of concerts I'm gonna play in Barcelona in March. So, the rest of the post will be in Catalan, oh beloved thousands of fans over the world.
El Bolsa i jo farem una gira mundial per la província de Barcelona a mitjans de Març. Celebrem que, després de que un és pare, i l'altre es passa el dia menjant hamburgueses americanes, seguim vius. Uri Nieto + El Bolsa Catalan World Tour 2011.
El dijous 17 de Març toquem al Bar Veider, que està a Barcelona, exactament aquí (Travessera de Gràcia, 276). Començarem a les 21:30h i serà Gratuït. Aquí el cartell:
El dissabte 19 de Març toquem a l'Esquerda, que està a Granollers, exactament aquí (Av. Prat de la Riba, 31). Començarem a les 22:30h i serà Gratuït. Aquí el cartell: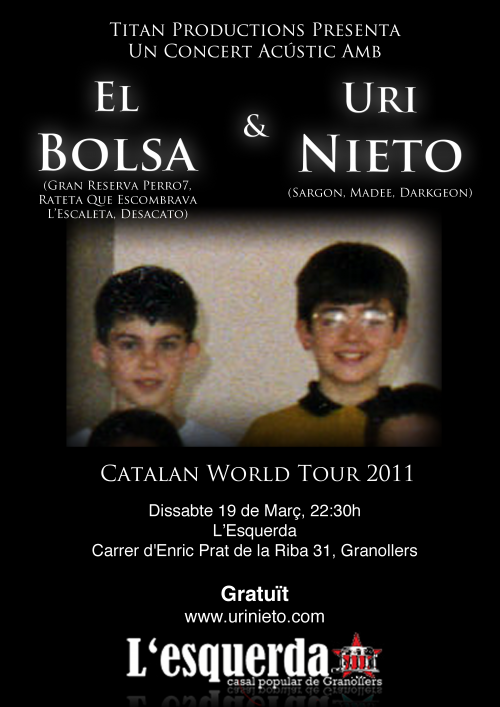 Heu de venir per favor.
Related show
Cover from the song "Through the Morning, Through the Night", from the album "Raising Sand" by Robert Plant and Alison Krauss. Alright, Jarl'Em All Studios are alright.